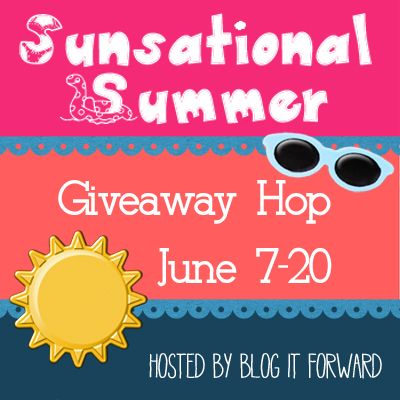 Welcome to the Sunsational Summer Giveaway Event. This event is hosted by Blog It Forward, My Mommy's World, Taking Time For Mommy, And The Little Ones Too, and Put A Little Umbrella In Your Drink. This event features giveaways with a value of $25 or more at each of the participating blogs! Be sure to visit each blog from the linky below and enter for your chance to win! This event will close on the first day of summer, June 20th at 11:59 pm EST. Good Luck and have a Sunsational Summer!
Summer is the time for fun and great seasonal treats like fresh veggies and fruit. In summer we wish to be closer to the blue waters of a river or the ocean. We love refreshing recipes that fill us with coolness and richness of vitamins and minerals that come with them. All that and more comes during the hot summer time.
That is why we decided to go with the prizes that could support all of your efforts to have a healthier and happier summer ever!
Celebrate Woman Today Prizes Include:
Prize Pack I:
• EatSmart Scale $37.95 Value – Stylish, with precision mechanism inside, and very helpful to anybody for many different reasons. No waiting time to "warm-up," convenient lit-up back screen, thin and sturdy platform for your convenience. Accurate too! I have several scales at home and compared my weight on all of them. The deviation was 0.1 which is nothing to me. And yes, you can use kilos, pounds or even stones as the measurement mechanism for your weight. Enjoy it, truly.
• Cookn Software $79.95 Value – This inspiring software will not only organize your recipes for you, it'll keep the best and newest recipes out in the blogosphere readily available for you as well. You can plan your meals, shopping lists, special diets and so much more that I still keep exploring this amazing piece of art every chance I get. You will be thrilled with the options this software offers to each of us.
• BluApple $9.95 Value – With BluApple your veggies, fruit, and greens will stay fresh and crisp longer to be enjoyed. Why? Due to BluApple's ability to absorb Ethylene Gas which causes fresh produce to over ripen and go bad quickly. BluApple is an environmentally friendly product and used inside packets could be replaced after 3 months of use and added to your house plants. Way to go: Nothing is wasted!
Stand Alone Prizes:
BluApple – 2 Winners
Disclosure: Celebrate Woman received one or more product(s) mentioned above from the companies to facilitate this review and for evaluating purposes. My opinions are my own and were not influenced by the company. Celebrate Woman Today promotes and supports only healthy, eco friendly, and life-enhancing products. This giveaway is not sponsored or associated with Facebook or Twitter, and this disclosure is done in accordance with the Federal Trade Commission 10 CFR, Part 255 Guides Concerning the Use of Endorsements and Testimonials in Advertising.

a Rafflecopter giveaway
Here are over 50 other prizes and prize packs from the fabulous bloggers. Hop to any of the blogs and try to "poke" for the prize!